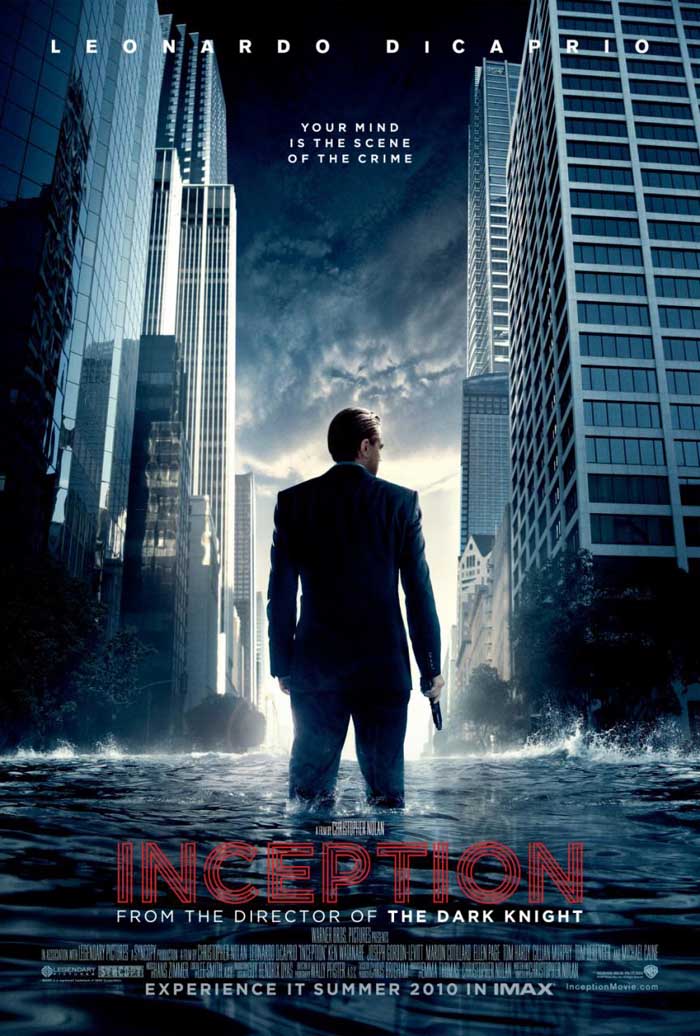 Dom Cobb(Leonardo Di Caprio) is a skilled thief, the absolute best in the dangerous art of extraction, stealing valuable secrets from deep within the subconscious during the dream state, when the mind is at its most vulnerable. Cobb's rare ability has made him a coveted player in this treacherous new world of corporate espionage, but it has also made him an international fugitive and cost him everything he has ever loved. Now Cobb is being offered a chance at redemption. One last job could give him his life back but only if he can accomplish the impossible-inception. Instead of the perfect heist, Cobb and his team of specialists have to pull off the reverse: their task is not to steal an idea but to plant one. If they succeed, it could be the perfect crime. But no amount of careful planning or expertise can prepare the team for the dangerous enemy that seems to predict their every move. An enemy that only Cobb could have seen coming.
Review:
Critics say that Inception is the best movie of the summer. I say it's one of the best movies i have ever seen. And the best movie from Christopher Nolan (Dark Knight, The Prestige, Batman Begins). I have already watched it twice and i don't have problem to watch it again and again.
In the movie, we follow Cobb and his team while they are trying to achieve an inception. Once again it's a movie you don't need to say many about its plot because you will destroy it. Dreams, fantasy, cleverness are the main parts of the movie. Nolan made 2 hours movie and he achieved to make you think it's far more less. Is fast and you are always up and curious to see what will happen next.And as far as the movie go, you can feel more the anxiety and the feelings of the characters.
Main character of the movie is Cobb, portrayed by Leonardo Di Caprio. Once again Di Caprio show us his acting skills and put his mark once again as one of the best actors out there. You can even feel the character from the color of Di Caprio's voice as he speaks and becomes one with it.
Then we have the rest team with Ellen Page, Joseph Gordon Levitt, Tom Hardy, Ken Watanabe, Dileep Rao and the two persons who are playing with in the dreams, Cillian Murphy and Tom Berenger. Each one of them portrays a different personality with different quality. All of them have done such an amazing job with their characters that fit so perfectly in universe of the movie, who makes you forget that actually they are not real.
Last but not least, we have Marion Cottilard as Cobb's wife. I have to admit is the only actor from all i have mentioned that i haven't seen before. I don't know about other movies but in here she was gorgeous. She was creeping me out in the whole thing exactly like it was her job to do. Jeezz..i would never want a husband who acts like her!Not that i can't understand why she is acting like that...
Well if you have watch Nolan's Prestige you know what unique mind he has and what amazing ideas pass to audience. Inception is much much better. Not only because is something you haven't' see before, or because it's mysterious in a really good way but because also when the movie it's over you are wondering "This whole thing can be true. This whole fantasy he created how we know it's not exist?". Seriously i had that thought in mind. I really believe you need to watch that movie! You will enjoy it for sure.
P.S: Does anyone else noticed that Michael Caine has a part,even small, at all the latest movies of Nolan?
Currently at the cinemas