Each night, Miriam hears the eerie whistle of The Night Watchman Express.
The sound of the traim gives her visions of an underground factory and a terrifying laboratory....
Miriam has only her guardian's son for company, and she and Simon dislike each other from the start. But they must find a way to trust each other, or they will end up on the sinister Night Watchman Express.
Full of danger, suspense, betrayal, and greed, this steampunk adventure is for readers of all ages.
REVIEW:
This book, alongside its sibling, came to me just it time. I was in a desperate need of something interesting and different. To tell you the truth, steampunk and dystopian novels are something I love to read, but my world is full of weird creatures, that there is, simply, not enough time.
About the characters:
Miriam is a slightly spoiled, orphaned girl. Her world turns upside down when her guardians and their son move in her house. She has a vivid imagination and some spirit and this is something I liked about her.
The Marchpanes are Miriam's guardians. They are awful to her and their purpose is mysterious, since from the moment they move in with Miriam, they try to find something specific and for an unknown reason.
Simon is the Marchpanes' son. He is a rich kid, with no trace of his parents' characters. He's not ambitious for money and fame. He and Miriam dislike each other from the start, but their mutual hate for the Marchpanes brings them together.
Neil is Simon's best friend. He is a simple poor boy, and smart enough to win a scholarship at the same school Simon attends.
Mana is the most awesome character in the book. She is mysterious, wise and from the Islands, and she has some unique powers.
The Cantwells are some rich, charming and evil people. Their full plans of whom are best reveiled in the second book of the series.
And finally, Riki, an island girl that we meet later in the book. She is so nerve-breaking that, in my opinion, makes Neil a hero for tolerating her.
About the book:
The story is set in England and in an island called Lampala. The author is great with the descriptions of the places and the situations.
This book has two parts. In the first we meet the characters until something happens and they get separated and in the second we only see Neil and Riki in Lampala, where they explore the island discovering truths and helping Mana.
Although the author writes in the third person, I felt a little disappointed, because in the first part we leave Simon and Miriam in a very difficult position, and though the author was really good in capturing your interest in the current pages, I couldn't help but thinking of their fate.
The steampunk element was not very present and that was another disappointment.
But no matter those, the story is very capturing and you keep turning the pages with the hope that you find answers. Needless to say, that you find answers, which in their way, raise more questions.
The end leaves you with many questions and you are eager to start the next one immediately.
Their courage will be tested to the breaking point.
In the bestselling action-packed steampunk adventure The Night Watchman Express, Miriam and Simon were kidnapped and thrown on the strange train....
now Book Two of Crown Phoenix series, they arrive at the terrifying destination known as Devil's Kitchen.
Here they will face human experiments in a laboratory known as The Infirmary. Miriam is forced to work in an underground factory, while Simon is held in a luxurious prison by jailers who are as beautiful as they are deadly....
REVIEW:
This is the second book of the Crown Phoenix series. This one is smaller than its sibling and far more interesting.
We learn that Simon and Miriam end up in Devil's Kitchen, an awful, filthy place that Marchpanes created in order to manufacture something that will profit them.
Even though, they want to stay as close as possible, from the very start, Miriam and Simon end in different places. Miriam is forced to work in the mines and Simon is being held prisoner in a luxurious prison, under the supervision of characters we already know.
Mana and Neil, after making their plans at the end of the first book return to England to set them in place. And everyone slowly, discover a piece of the puzzle, a clue or an answer, that's important enough for the future of the Company and the lives of million people.
When it comes to new characters, there is Kyoge, an island man, protector of Mana and very strong-willed fellow. And a numerous of other characters Miriam, Neil and Simon meet, some of them friends, some of them foes.
In this book, the author follows all the characters. In each chapter I was transferred in a different situation, leaving you anxious of the one you left.
I couldn't believe how braver and more mature the characters became. Still, the author doesn't tell us how old the characters are. In the first book, they acted like children, but in this one, they act more like adults.
The steampunk element is still missing, but you still don't care, because you're anxious the entire time.
While in prison, Miriam uses her imagination to make her days bearable, Simon uses everything he has, proving us he's smarter than we thought and Neil, though suffering from agony when it comes to his family, becomes an incredible help. We, finally, learn what the are the motives of both, Cantwells and Marchpanes.
And before you realize it, you reach the end. Questions are answered, some revelations make your mouth drop and you have an end that, although it looks complete, it's not.
Bottom line, I loved them both. I couldn't wait to reach the end and find out the truth I, and the characters, longed for. I wasn't expecting the books to be so capturing and great and that makes my decision to participate to the tour worth it. They weren't the least boring. I loved them and I can't wait to read the third, and I believe, the last book. I'm so anxious as to what happens next.
a Rafflecopter giveaway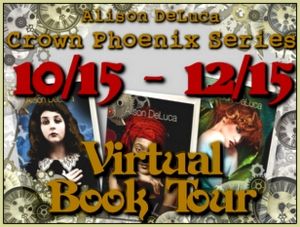 Disclosure of Material Connection: I received this book for review from First Rule Publicity from the author as part of a virtual book tour. I was not compensated nor was I required to write a positive review. The opinions I have expressed are my own. I am disclosing this in accordance with the Federal Trade Commission's 16 CFR, Part 255: "Guides Concerning the Use of Endorsements and Testimonials in Advertising."