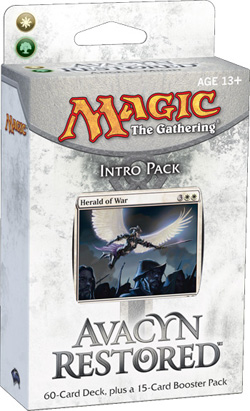 The "Angelic Might" deck features, as you'd expect, gigantic flying creatures with awesome abilities. You just need to make sure the game lasts long enough for them to come out! Hold off your opponent's creatures with Angelic Wall and
Gideon's Lawkeeper
, neuter those creatures with Defang, and take them off the battlefield entirely with Righteous Blow and
Oblivion Ring
. Don't be afraid to trade your creatures in combat for your opponent's attackers—anything that slows down your enemies is good for you.
Meanwhile, develop your mana base with
Rampant Growth
and
Borderland Ranger
, and prolong the game by gaining life. Cathedral Sanctifier can help with that as early as turn 1. Seraph of Dawn's lifelink ability lets you gain life each time it deals damage. Add in the lifegain potential of Scroll of Avacyn, Seraph's Sanctuary, and Goldnight Redeemer, and you can counteract a lot of damage you may have taken.
Once the Angels arrive, the battle plan becomes simple: attack!
Serra Angel
and Archangel play both offense and defense thanks to the vigilance ability. Voice of the Provinces comes with a friend that can block a counterattack. And Angel of Glory's Rise can resurrect all the Humans that gave their lives for the cause earlier in the game.
Once you've played the deck, you may wish to diversify your collection of Angels. Luckily, the
Avacyn Restored
set has plenty of amazing choices! Angel of Jubilation; Restoration Angel; and Sigarda, Host of Herons are all stunning. But nothing holds a candle to Avacyn, Angel of Hope, an indestructible 8/8 Angel that makes all your other permanents indestructible too!
REVIEW:
I'm not entirely sure why i proposed to review Magic The Gathering. I guess i've become too obsessed lately with Magic in general sooo....Johnny will be reviewing another two Packs from Avacyn Restored.
I am a fan of red/white decks with white/red spells and red creatures. So when Johnny show my the Intro Packs of Avacyn Restored i can't say i found something that i really liked. Even the red/white one didn't impress me. We went to the store anyway, and i was planning to buy a booster only. Needless to say i didn't manage to hold back. I was like "what the hell? let's try something new"...so here i am with Angelic Might.
As the description says Angelic Might has really strong creatures with cost over 4 mana, and 2-3 smaller ones. I have played two games so far with the certain deck one against Slaughterhouse and one against a custom made deck. I've won at both games. I think the best is to manage to put down at least 2 Borderland Rangers, which give you land cards and the Cathedral Santctifier which gives you life. By doing so you will have the 4 mana needed really fast and more life than 20 if you are lucky. After if you combine the angels right, you turn your game to work as you want.
Against Slaughterhouse
: I was lucky enough and had 2 Borderland Rangers, 2 Cathedral Santctifiers before my 5th turn plus Goldnight Redeemer. I went over 30 life and with 2-3 more creatures down i won even though i was dealt over 10 damage really fast.
Against the custom deck (with artifacts)
: I didn't have the luck of the previous game, but at my 4th round i had one strong angel down and in the next one another. The other player, had problem with his mana so it's wasn't that difficult to win even if i could only attack with only 1 of my 3 creatures down.
So far, i'm quite happy that i bought it (thanks Johnny!). And i'm not even planning to change cards in it. I just want to try it, with maybe something stronger like my Dragon themed deck, the Soulbond and Graveyard decks of Johnny, and Silvestro's both white and black themed decks.
P.S: I'm quite the new player. I've been playing the game only 2 months now so i hope i didn't say anything too stupid :P