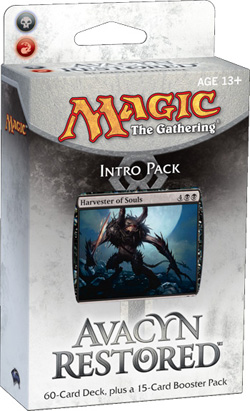 The key to playing the "Slaughterhouse" deck is to kill creatures early and often. The twisted part is that you'll want to kill not only your opponent's creatures but your own, too! Many of the creatures in this deck don't stay dead, so offing them isn't really a disadvantage. The first time they die, creatures with the undying ability return to the battlefield even bigger than before!
You've also got plenty of creatures that give you a bonus when they die:
Goblin Arsonist
and Gang of Devils deal damage, Maalfeld Twins replaces itself with a couple of Zombies, Driver of the Dead raises a creature from the dead.... As if that weren't enough, cards like Harvester of Souls, Blood Artist, and Havengul Vampire provide bonuses when any creature dies, no matter whose it was.
Ultimately, you'll have such complete mastery over death that sacrificing your own creatures will be a benefit in disguise. Barter in Blood,
Bone Splinters
, and
Fling
are all cards that allow you to kill your opponent's creatures at the cost of killing your own. This may seem fair, but while your opponent's creature stays dead, your Butcher Ghoul comes back from the grave and Harvester of Souls nets you multiple cards. Now that's truly evil.
To make this deck even more diabolical, consider bolstering it with Killing Wave, a black sorcery with the potential to kill all creatures or shred your opponent's life total. Hound of Griselbrand is another nasty choice, as it has both undying and double strike. Finally, Vexing Devil gives your opponent the choice of facing down a 4-power creature or taking 4 damage—all for just one mana!
REVIEW:
This is my first black oriented deck. (Black/red to be precise). Slaughterhouse's mentality is to kill EVERYTHING to make you stronger. It has spells that sacrifice, spells that destroy other creatures while letting you sacrifice others, it has demons, vampires undead and all the good christian stuff. What makes this deck nasty is that your creatures actually benefit from dying, since most of them have the "undying" ability which means that if they die without any counters (counters make creatures stronger) they return with a counter on them (meaning they get +1/+1 on their power and toughness), while others make your opponent lose life (blood artist makes your enemy lose 1 life for every creature dying while you gain 1 life. awesome little vampire dude) Mike the vampire gets +1/+1 whenever a creature does and/or if he deals damage to an opponent and generally this deck is a rather aggressive, MEAN deck.
By now you are most likely like "This sounds so nasty and awesome" or "What about wolves dude? aren't you a wolf guy?" or "This is so anti-christian you should go get baptized to EXPELL THE EVIL DEMONS OF YOUR SOUL". But probably one of the 2 first ones. Well, my honest opinion is that this deck needs work. By both myself and additions to the deck. I just cant seem to know exactly how to work with this deck, who to sacrifice, how to sacrifice and most importantly when to sacrifice and when to attack. It takes time and effort but I think this is a well made deck that with some additions to it can turn quite devastating to your enemy.
Against Angelic Might:
Well I was not that lucky with mana and cards as Yiota, but this deck managed to stand its ground extremely effectively. However after the 5th round when I only had small monsters and she had her flying angels with heavy hitting it was only a matter of time. However I did manage to deal to her a significant amount of damage before the end.
Against Filios's artifacts:
Here I saw the true ugly face of this deck. Blood artist was down and I was relentlessly throwing my soldiers to him even if I knew they had no chance in surviving. THe outcome? I managed to reach well above 20 in life points while slowly sapping away his own. In the end despite him taking out a very strong artifact and taking out my blood artist (no respect for art), i managed to get enough mana to get a couple of demons down and drag his ass to the grave.