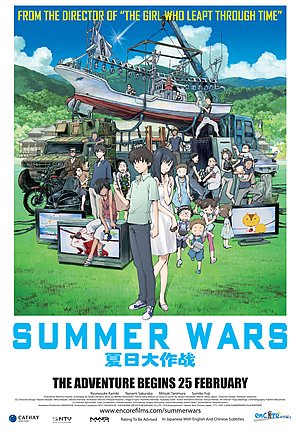 SUMMER WARS
Kenji is a teenage math prodigy recruited by his secret crush Natsuki for the ultimate summer job -- passing himself off as Natsuki's boyfriend for four days during her grandmother's 90th birthday celebration. But when Kenji solves a 2,056 digit math riddle sent to his cell phone, he unwittingly breaches the security barricade protecting Oz, a globe-spanning virtual world where millions of people and governments interact through their avatars, handling everything from online shopping and traffic control, to nuclear launch codes. Now a malicious AI program called Love Machine is hijacking Oz accounts, growing exponentially more powerful, and sowing chaos and destruction in its wake -- and it is up to Kenji, Natsuki, and her extended family to band together to try to stop the mayhem.
REVIEW:
Actually when i got the movie, i haven't watch neither the trailer or read the movie summary. I was just really into a non-blood type of anime and this one from the poster looked like one. It seemed more like a summer game or something.
Of course it was not bloody but it was entirely different of what expected. It was giving you a pretty good idea of what a world who has all his services based on computers, can suffer. And at the same point it was funny, exciting and had action in it. Well iconic action. It was about 2 hours but it didn't bore me. It had a really good combination of family, friends, love and...computers.
I'm not sure what kind of people will like it. I was really in mood for an anime so i really enjoyed at the time. I'm pretty sure it might have bored at some points if i watched it now though because it's long. But in general, i think it's one of the good ones.
THE GIRL WHO LEAPT THROUGH TIME
Inspired by author Yasutaka Tsutsui's novel, this anime follows the adventures of Makoto Konno, a seemingly ordinary high school student who makes a startling revelation when she learns that she's been endowed with the ability to travel back in time. Following a series of frivolous "time leaps," Makoto learns that her powers have a negative impact on the people around her and sets out to correct the effects of her actions.
REVIEW:
I'm pretty sure i watched this movie, the same day as the above. Heh...Anyway, you may know this one also as a book or a live action film of the same title.
And i have one thing to say: AMAZING! It was simply beautiful! The message "of time waits for no one" and the way they showed it to you, the story, the ending, the fun moments, the sad moments. It was just so good!! It's definitely one of the best movies i've seen!
And yes i know, that in the core is mostly a "love story" but i don't think it's only for girls. It's a really fun and interesting watch. Except well, the end, which is not the the happy ending but mostly the ending that fits better.