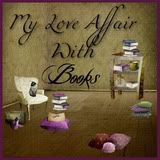 As you may already noticed from the sidebars we have our first affiliate. Our first partnership. We welcome lovely Misha with her blog,
My Love Affair With Books
in our company! Misha is one of our most supportive followers and she has one of the best blogs i have seen. I'm really proud to be friend with her! Her blog is about books from many genres. She updates it daily! There are also part of many weekly memes to get to know her better and have fun around. There are giveaways and most important there are reviews. Like today she posted like three book reviews!Talk about book food and fast reading huh? You should go and check out her blog and support her as you do with us.
As an affiliate we will RT most of her tweets for you, you have easy access on her blog by our sidebar and of course her giveaways are on our main page as well! So we will make sure you will not miss a thing!
Once again welcome Misha and big thanks for letting us be your first affiliate too!^^