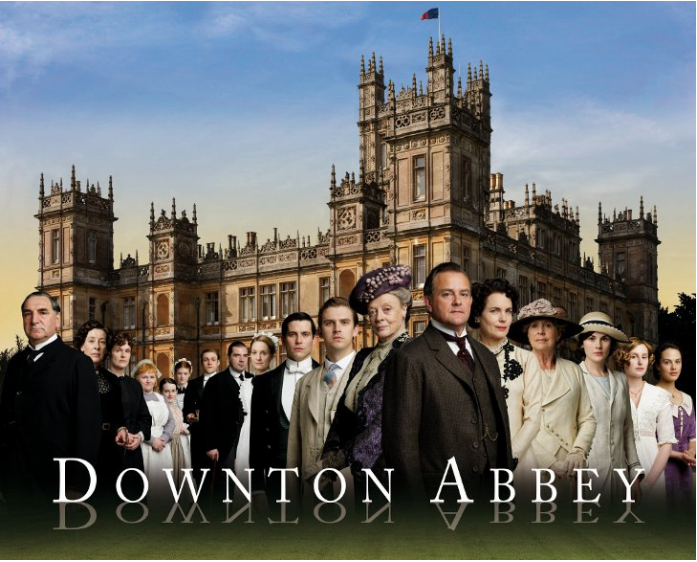 Exposing the snobbery, backbiting and machinations of a disappearing class system, this seven-part British series chronicles the comings and goings of the upper-crust Crawley family and their assorted servants. Ensconced in their stately manor, the Crawleys delight in their aristocratic life -- until the sinking of the RMS Titanic in 1912 muddles their line of inheritance. Maggie Smith plays the sneering Dowager Countess of Grantham.
REVIEW:
I found those series thanks to Misha @ My Love Affair With Books, where she had mentioned it in one of her posts. Since i like period films i thought to give a try to the series too (Maggie Smith is in, so how bad could it be?). I have to admit the trailer, didn't really catch my attention but after the 1st episode i couldn't stop watching.
I really liked that the first episode started with someone well know to everyone (Titanic sinks). It was a good way to get you in. Main plot of the series, are what will happen to Downton Abbey now there are no sons or a guy the like to marry the daughter, to inherit the place. Plus, an unknown cousin appears which is the exact opposite of high class and everyone feels not so positive about it. You follow the relationships of the family member and their closest people. Another nice addition to the storyline, is that except the family at each episode you get to learn the back stories of the servants as well. There are stupid servants, naive servants, lovable servants, servants you just want to kill so much with the worst way possible (:P) and you learn a bit about them too.
As for the atmosphere? Amazing! From costumes, to places or how the people react, everything was really well done (the series already count as Classic). The acting was flawless from all the actors. They were in their roles to the bone. And the music is lovely.
Worth mentioning:
Their conversation about Titanic.


The first time phone came into their lives..


Maggie Smith once again plays the lady above all.


That house is too big and has not enough people in(:P).


How the village people, like the aristocratic family!
Known Cast: Hugh Boneville (From Time To Time), Maggie Smith (Harry Potter Series), Brenan Coyle (007), Michelle Dockery (Hanna), Joanne Forggatt (See No Evil), Elizabeth McGovern (Clash Of The Titans, Kick Ass), Allen Leech (From Time To Time), Jim Carter (The Golden Compass, Alice in Wonderland), Maria Doyle Kennedy (The Tudors, Dexter)
Season 2 was announced for Fall 2011.